Description
250nm to 520nm Laser Shielding Material
This is a must for your new laser build! Protect the area around your machine and everyone's eyes from stray laser radiation reflections.  This material is optical grade semi-transparent acrylic material that has been tested with our 405nm and 445nm lasers to show an OD of 3+.  Sheets are sold in 11 7/8″ x 11 7/8″ sizes.  Easily cut with saw or router to desired size for your machine.  Each piece comes with "Warning – Never Look Directly into a Laser Beam – Laser in Use", "OD 3+ @445nm",  sticker for safety.
Be safe and not only wear safety goggles, but enclose your working area of your laser upgrade machine!
Tested Specifications:
| | |
| --- | --- |
| Size: | 11 7/8″ x 11 7/8″ |
| Thickness: | 1/8″ (0.125″) (3.175mm) |
| Weight: | 12 oz |
| Wavelength Range: | 250nm to 520nm |
| Visible Light Transmittance: | >55% |
| Optical Density: | 3 (OD 3+) |
| Attenuation: | 10-3 < N% < 10-4 |
(Note:  Doubling up of shielding pieces does not increase the OD value)
Testing setup with 445nm laser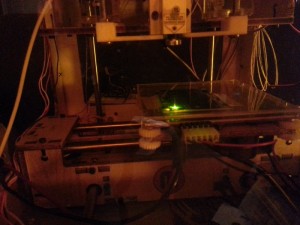 Laser marking circuit boards with shield.  Notice the spot is very attenuated.
Same laser marking without shielding.  Quite a difference with laser reflection.
Laser Cut and Engrave Example
Do not operate lasers without correct protective equipment and training. Laser Safety Shielding is not intended to replace laser protective eyewear (laser glasses or laser goggles) or other laser safety products that maybe required. Contact us or your certified laser safety officer for more information.