Laser Bot™ Personal Manufacturing System
Laser Upgrade your 3D Printer or CNC machine!  Upgrade instructions for many popular brands!
Who doesn't want to add laser capability to their 3D Printer?
Here at the J Tech Photonics Lab we have been tinkering with upgrading our 3D printer used for rapid prototyping to also have laser cutting and engraving capabilities.  This can be used for many fun projects as well as useful manufacturing projects like cutting solder stencils for PCBs (as seen in the video above).
Setting up the Hardware:
Basically, we took our 455nm component laser diode and mounted it in front of our plastic extruder.  You can find the printable parts on Thingiverse (part 156753). Then we hooked up the laser with it's included Mini Fit Jr. connector to the  2 Amp Laser Driver Board output (the laser comes standard with this cable in our kits).  The signal for the automated build platform motor on the MakerBot heated build platform circuit board is connected to the input of the driver board using a custom cable.
How it All Works – The WorkFlow Diagram
Once you get all of the mechanical figured out, it is pretty easy to get everything going.  The basic workflow is:
Draw:  Use a drawing program that will output G Code files based on path objects.  Corel Draw and other fancy programs will do this.  Inkscape has an open source free program that does the job.  Just remember to get the "LaserEngraver" plugin to convert to G Code.
Modify:  Use an editor to modify the G Code file to turn on and off the laser.  The "On" command is M106.  The "Off" command is M107.  It also might be usefull in developing a process to have a "pause" command after turning on the laser and the next command to move.  This gives the material a bit of time to heat up before moving.
Load: Load the G Code file into Replicator G and you are ready to go!  Press the "build" button and the process should start.
[singlepic id=31 w=800 h=600 float=center]
Check back for more projects and instructions on how to create your own solder stencils using this laser cutter!
Three years of upgrading 3D printers and CNC machines:  Now the New 2.8W Safety Compliant Laser kits are available!
Our fourth generation laser kit offers even more than ever!  New safety features make it not only easy to integrate and use but also now the safest way to use your new class 4 laser.  These are not toys, so we added safety features like interlocks, a key switch, power off reset, coupled with the safety features already there like visual indicators.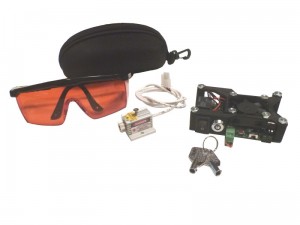 Some examples of cutting using the upgrade kit:
This will work on other printers as well!
The laser upgrade kit only needs a single output from the printer to tell the laser to turn on and off.  There are plenty of options to use.  One of the easiest is to use the signal for the fan on many of the printer motherboards.  Jumper it over to the laser driver board as an input.   If the printer is based off of G Code and M codes from Replicator, then a command of:
M106 Fan on, fwd (to turn on the laser)
M107 Fan off (to turn off the laser)
You can then modify your G Code files to do whatever you want to.  If you use a drawing program like inkscape and the output is in G Code you can then convert them to the MakerWare x3g format using the converter found on thingiverse part 81425 here.
Some customers have also used the extruder heater to turn on the laser as well.  Both ways work!
 Printers successfully upgraded with this kit include:
3D Printer Laser Upgrades
Remember Safety First!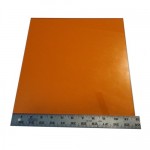 We sell laser shielding to block laser radiation and reflections!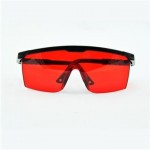 Laser Goggles are also a must!
Disclaimer
 The laser used in this project is very powerful and all safety precautions must be taken.  Use proper safety eyewear to prevent injury to eyes.  This is a project and J Tech Photonics, Inc. is not responsible or liable for any and all damage or injury caused to people or property.  The use of these instructions to make a laser cutter is under your own discretion and all safety precautions should be followed.