Using the Inkscape Laser Tool Plug-In
In case you didn't see the overview of the new laser G Code creating plug-in, you can get the overview here:
This tutorial will go over how to create drawings and text in inkscape and then create the G Code file needed to run on your 3D printer or CNC machine.  We will cover a couple of common items that you can do in inkscape and then use with your laser.
Drawing Text for cutting/engraving
Drawing Objects for cutting/engraving
Drawing Multiple Objects for cutting/engraving
Importing Pictures or Images for cutting/engraving
Drawing Text
Engraving text into materials is a very common need for the laser upgrade.  Here is how to accomplish this.
Step 1:  Use the TEXT tool in inkscape to draw your text.  The bottom left corner is you 0,0 location of you machine.
Step 2: You need to convert the object into a path.   All items drawn in inkscape are a vector object.  You can convert them into a "path" that will actually "draw" the object.  The laser then takes this path to generate the G Code.
Step 3: Under "Extensions" click on "Generate G Code" and "J Tech Photonics Laser Tool.
Step 4: Fill out the Laser Tool Dialog.  For more information on the specific items click here.
Step 5:  When finished filling out the form, click APPLY to start.
Step 6:   The laser path will be outlined and the code will be generated in the location provided in the tool.
Here is an example of the G Code file produced.
Drawing Other Objects
Similar to the text, you can draw anything you want with the other tools.  Just at the end when you want to convert it to G Code for the laser.  Here is an example of a swirl:
Drawing Multiple Objects
In order to draw multiple objects in the same toolpath, you must first group all of the objects and convert to path before generating.  Here is an example:
Step 1:  Draw your separate objects.
Step 2:  Group your objects.
Step 3:  Turn them all into a path.
Step 4:  Start the Laser Tool converter.
Step 5:  Press Apply and run the converter.
Importing Black and White Pictures
A cool thing to engrave are black and white "high contrast" images that only have two colors.  Here are the steps to engrave them.
Step 1:  Import your image on "file -> Import".  Note it is two colors.
Step 2:  Trace the outline of the image to get the path for the laser.
Step 3:  Using edge detection, update the image and press "OK" to apply the changes.
Step 4:  Delete the original layer underneath the new edge detected layer.
Step 5:  Select "object to path" to create laser path.
Step 6:  Generate your laser G Code file by entering your parameters and pressing "Apply".  The laser path will be outlined.
So there it is!  Now you are ready to start creating!

Remember Safety First!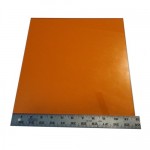 We sell laser shielding to block laser radiation and reflections!