Description
Laser Engrave Black and White Images with Ease!
We here at J Tech Photonics get a lot of questions on whether the inkscape plugin can do fills.  The answer is not really.  It is mostly a vector/path based software program and lacks the ability to do fills without a lot of hassle.  If you want to do things like engrave your logo, make QR codes, make PCBs, or just engrave a black and white image, then this software is for you!
Paul Steinmeyer developed the software for making his custom PCBs because he wanted full control of the trace widths.  His tutorial is located here if you want to find out more.  In doing this development, he created Laser Etch, which is a simple program to turn any black and white image into G Code.  Other G Code image programs that can do similar G Code conversions cost upwards of $200 to $2000.  We want to make it so everyone can create with our hardware products, so we are pricing this at a fraction of this price!
Super fast with "Optimized" Engraving
Doing rastor based engraving can be a long an tedious process.  You need to have the laser travel back and forth for every pixel.  A large file can take over two hours if you need to process the entire image!  This software cuts this time down by 50% in most cases by moving slow ONLY when the laser is firing.  Considering there will be some white in the file, you can save a lot of time by moving faster when the laser is off.
See Where Your Engraving will be BEFORE it starts!
Using a low power setting*, Laser Etch will pause in the center of the image for a specified time and then draw an outline of the entire image so you can place you material on your work surface and know exactly where your image will be.  Or, you can stop the engraving if you have a misalignment of your part before it starts.  No more throwing away material that you messed up trying to get placement correct!  (*requires PWM function for your laser for power control)
Cut Your Engraving Out
You now have a beautiful engraving on a piece of wood, but how do I cut it out perfectly to match my boarder outline?  A customer asked us this question and now there  is no more need to use two programs and try to get the orientation correctly to cut out your image.  Laser Etch has two different settings, one for engraving the image and one for cutting it out.  Simple as that!
Material Profiles for Easy Engraving
Laser Etch has the ability to save your settings profile for different materials so you don't have to re-enter it every time you switch!  Once you get your settings dialed in and everything working, simply save it as a profile so you can always come back to it when you need.
Engrave PCBs
If you want to make your own custom PCBs at home or at work this is the software to use.  You can output an image from your favorite PCB layout software (Eagle, Diptrace, Cadence, etc.) and then load it into Laser Etch.  It will then create the G Code needed to perfectly engrave the file onto the painted copper surface with super high accuracy.  Get well defined trace widths and super small pads with no problem at all!  The tutorial on this process is located HERE.
Engrave Custom Logos
Do you want to put your logo on your product or marketing materials?  This software can get it done!  Either engrave it directly on wood or anodized aluminum or use the "paint removal" method to etch it into metals with acid.
Engrave QR and 2DID codes
Whether you are tracking products, marking tags, or just putting a code on some promotional material, this software can do it with ease!  Either engrave it directly on wood or anodized aluminum or use the "paint removal" method to etch it into metals with acid.
Engrave Images
If you want to make sure your image is perfectly matched in your engraving and you don't want just an outline copy, then this software is your answer!  Convert your image into two colors (black and white) and load it into the software.  It will convert it to a g code file for you to run with every pixel perfectly placed!
Precision Mode for Super Fine Engraving
Do you need your engraving to be super accurate?  We have integrated "precision mode" just for this purpose!  It will take a bit more time, but your engraving lines will all line up with the exact precision of your machine.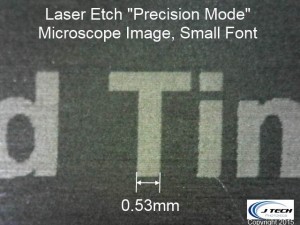 Features
Our Laser Etch software is packed with features you need to get your project done and we are adding more every day with your feedback!
Converts your BMP image into G Code for your CNC or 3D printer
Optimized Rastor for reduction of engraving time
Easy to use interface
Low power visualization of image placement with center pause and outline drawing before the engraving starts
Save profiles for different materials to make changing materials easy
Cut feature to cut out image after the engraving
Repeat image feature (for making a bunch of identical engravings on the same material)
Ability to add offsets to the zero location and home machine before start
Downloads
Try out the software first to see if you like it and if it will work for you.  Click on the setup link below to start the download.  This version will only produce G Code for half of the image file until it is registered.
 Beta Version:
Previous Stable version:
UPDATE:

Version 1.3.0.4: Bug fix where zero values were saved as very small values, causing machine to hang.  Missing parameters now loaded from Profile Settings (.prf) file
Version 1.3.0.3:  Updated entire image processing algorithm for large files. GRBL same line support.  Numerous bug fixes.
Version 1.2.0.7 11-09-2015:  Fixed profile settings not saving.  Added additional tab support.  Enhanced optimized routine to decrease amount of moves needed.
Version 1.2.0.6 10-5-2015:  Fixed European Decimal problem.  Fixed G0 implementation.  Fixed "lines" on some images problem.  Several other small bug fixes.
Version 1.2.0.4 8-31-2015:  Allow for negative offsets for Delta printers (or any CNC where zero is the center of the table).  Allow for insert of G0 "rapid" move command versus G1 for laser off.
Version 1.2.0.3 7-10-2015: Expanded settings, added cutting, front center low power, home command, z axis speed, start height, Z axis speed, X Y offset, image repeat, not print image (for cutting), perimeter cut, repeat cut, advance Z cut, re-load last profile on start, third image view on main screen with cut, save displayed image for use in other sw.
Version 1.1.0.0 5-27-2015: Added optimization to black portions of image.  Decreased processing time and improved file size reduction. Added decimal correct for European countries.
Notice:
Following purchase completion, a registration code will be sent to your email address included with your payment information that will unlock the demo and remove the restrictions from the program.  The registration email can take up to 24 hours to be delivered to you.  We have to make a key by hand with chisels out of stone…  No, not really…  But we do have to sit in front of a computer and put your name in by hand and we are not always on our computer, so patience is appreciated!